Raoul Wallenberg – A Biography
Raoul Wallenberg - A Biography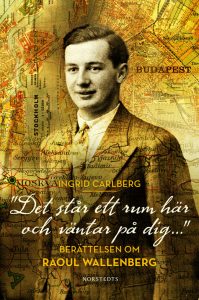 The Swedish edition of the Raoul Wallenberg biography "Det står ett rum här och väntar på dig…" was published in May 2012.  It was awarded with the literature prize, The August Prize, in 2012 for Best Swedish Non-Fiction Book of the Year, and won The Swedish Academy's Axel Hirschs prize in 2013 for a biography of high artistic and historical value.
"Ingrid Carlberg has through thorough research and countless interviews managed to find new data. A man of flesh and blood is revealed. / ... / Carlberg illustrates Wallenberg's work in Budapest, in a detailed and lively way, both with facts from archives and interviews. / ... / And his deeds are still alive, nearly 70 years after his achievements in Budapest. Wallenberg is very much alive through Ingrid Carlberg's gripping book. 784 well filled pages including an extensive apparatus criticus. This is how history should be written."
"Ingrid Carlberg's book gives an impressive picture of Wallenberg's development from his childhood and youth to his disappearance in Moscow, and by the Swedish authorities' inability to demand for his release in time.
It is both literally and spiritually a heavy book. But it is well worth reading."
"This has already been written about in a series of books. I have read several of them, so it was perhaps with some scepticism I approached Ingrid Carlsberg's 700 pages thick brick. Would it really contain anything new?
It did. / ... / Ingrid Carlberg has done a tremendous job on both accounts and analyzes. She portrays environments, records and meetings with people - not least with his to the very last, hopeful mother and stepfather. It's simply really interesting."
"Carlberg depicts one of the twentieth century's most fascinating destinies and takes responsibility for every detail. Her research efforts are also quite overwhelming. / ... / The book's middle section is breathtaking reading. / ... / Those who are not stricken with respect for Wallenberg's initiative and commitment to the victims of terror are hopelessly insensitive. "
"Ingrid Carlberg, who writes comprehensively about him and his life, commands the intonations and is careful with the word's denomination. After only a few pages, I trust every word she writes.
And how she writes! / ... / Ingrid Carlberg talks to those who have something interesting to say about the private and the public Raoul Wallenberg and she's also has a wonderful capacity to provide eye-opening overviews, she is thus both the mole and eagle. It becomes a history lesson where I feel as if I really walk in Raoul Wallenberg's footsteps, but at the same time see the surroundings, the small and large politics, on what is in the centre and what is in the margin. / ... / Overwhelmed and moved I close the book."
"Carlberg has been extremely thorough and presents Wallenberg in full figure, with the help of letters, family documents, archives and interviews. She handles the extensive material in a masterly way, with such a skilful pen that this brick is hard to put down."
"A truly fascinating, subtle and revelatory portrait of this enigmatic character and perhaps the closest any historian has got to the real man and the truth of his fate."
Presentation by Norstedts Agency:
Raoul Wallenberg had envisioned a different life. He sought no hero role and no real adventure. In the spring of 1944, he would turn 32 years old and he worked for a small trading company that imported geese, turkeys and egg powder from Hungary. He was trained as an architect, went for a career in business but found it difficult to find his ways.
Then the Holocaust came to Hungary. An American-Swedish Rescue Action for the last remnants of Europe's Jewish population was discussed. Swedish Government was urged to send someone. But who? A series of coincidences meant that all eyes fell on the food retailer Raoul Wallenberg.
Six months later, thousands of Hungarian Jews had the young Swede to thank for their lives. In January 1945 Raoul Wallenberg voluntarily went to meet the Soviet troops in a bombed out Budapest. He would never return to Sweden.
"Det står ett rum här och väntar på dig" is not only a great story that will take your breath away. It is also the result of an historical research effort in up until now unknown and unexploited archives. For the first time ever, the full story of Raoul Wallenberg is presented, using all the sources available today – his childhood and early career in Stockholm during the War, the dramatic short six months in Budapest, the circumstances surrounding his arrest and imprisonment in the Soviet Union, and the lengthy political game about his fate until this day. For the first time we get to follow Raoul Wallenberg's family through the entire series of tragic diplomatic failures, which led to him never coming back.
The story sheds new light on why it was that Raoul Wallenberg in the late seventies was highlighted as an American hero and became a high priority in the White House.
The author Ingrid Carlberg has with scientific precision produced a shattering reading experience, where famous characters in history come to life. The person Raoul Wallenberg emerges from the shadows, as well as his life in Moscow prisons. Recurrent connections to recent history creates a deeper understanding of what really happened and why.